Social Media Spells Success For Byron Fashion Group
BYRON BAY-based fashion label Spell and the Gypsy Collective has gone from "boot strap business" to global powerhouse worn by festivalgoer worldwide, thanks to social media.
In just seven years the business has expanded from the two founding sisters to 50 employees and now dispatches orders to customers in 130 countries.
The label's popularity on Instagram has given them strong brand awareness around the world with their modern bohemian designs now being worn by celebrity singers Miley Cyrus and Katy Perry.
The label was founded by sisters Elizabeth Abegg and Isabella Pennefather in 2009, tapping into the 20-45 year old female demographic looking for unique gypsy prints and vintage inspired laces.
The brand has now become very popular with female festivalgoers at events like Coachella, Burning Man and Bluesfest.
"Festivals are definitely something our label has become a bit synonymous with," Ms Abegg told The Daily Telegraph.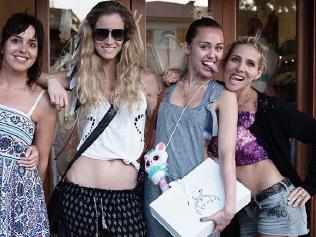 Their growing business, which sells 70 per cent of their products online, is now a finalist under the small business category at the 2016 NSW Telstra Business Awards.
"It feels really wonderful to be acknowledged," Ms Abegg said.
Ms Pennefather is the label's head designer, responsible for creating the six collections the label launches each year while Ms Abegg runs the head office.
Australian supermodel Shanina Shaik recently modelled their May/June 2016 Revolver collection in a hot photoshoot shot in the Outback near Broken Hill. For a behind the scenes look at this shoot check out the YouTube video below.
Spell did not turn a profit during the early years, before rapidly expanding through the mass take up of fashion blogging and photo sharing on Instagram.
"It was just the most boot-strapped business you can possibly imagine … then all of a sudden it just started to burst," Ms Abegg said.
"When Instagram hit we were right on top of it and it just snowballed from there."
REVOLVER BTS
The biggest spike in media attention the company has received was when Ms Abegg shared an image of Miley Cyrus visiting the Byron Bay design studio with Spell's 643,000 Instagram followers in January.
"The morning after I posted that picture, all of these magazines and people from around the world were suddenly contacting us," Ms Abegg said.
"We got a bit more media attention and I'm sure that some customers found us through imagery they found online or through social media."
The largest market for Spell is Australia, where it makes 60 per cent of its sales, followed by the United States, the United Kingdom and then some Scandinavian countries.
Spell has one retail store in Byron Bay but is now looking to open in other locations around Australia over the next couple of years so customers can touch and feel the products before buying.
---